Mamma Mia! The Musical
---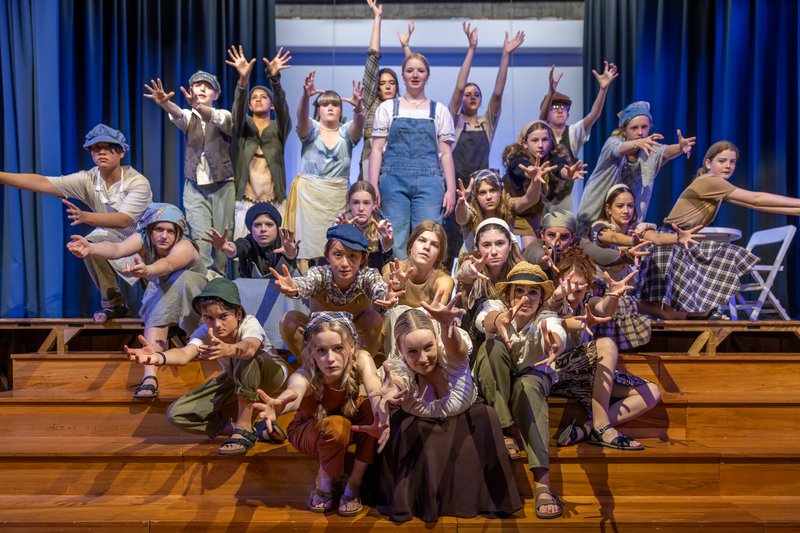 The production was helmed by director Julie O'Brien, a veteran of the performing arts industry with nearly 40 years of experience. O'Brien's expertise and vision were evident in every aspect of the show, from the complex dance routines to the intricate harmonies of ABBA's beloved songs.
The cast of Queen Margaret College students, along with performers from other schools in the region, were exceptional. Sophia Gittings, Year 12, delivered a standout performance as Donna, the strong and vulnerable single mother at the centre of the story. Gittings' powerful vocals and emotional depth were perfectly suited to the role, and she conveyed Donna's growth and development with nuance and grace. As Sophie, the bride-to-be who is determined to discover her father's identity, Maddy Wilson, Year 11, was equally impressive. Wilson's youthful energy and charm were infectious, and she brought a sense of excitement and anticipation to the show's iconic musical numbers.
The three potential fathers, played by Alex Vautier (Wellington College), Fraser Neilson (Hutt Valley High School), and Caleb Elmes (QMC), each brought their own unique personalities and back stories to the show. Vautier's sensitive and romantic portrayal of Sam, Neilson's buttoned-up British gentleman as Harry, and Elmes' adventurous and free-spirited Bill all added depth and complexity to the production. Malachy Holborow, also from Wellington College, gave a strong performance as Sky, Sophie's fiancé, the caring and supportive partner deeply in love with her.
The choreography, executed by Step Out Dance Company's Director Molly Gare, was a particular highlight. Blending classic disco moves with Greek- inspired flourishes, Gare's choreography added a unique and engaging dimension to the show. Musical Director, QMC's very own Mark Stamper, pushed the crew to be their best, tasking them with difficult harmonies and challenging them to be their very best, which paid off in spades as the cast rose to the challenge and delivered a beautiful musical jam packed with talent and skill.
Overall, Queen Margaret College's production of Mamma Mia! was a triumph. The talented cast and crew brought the show to life with passion, energy and style, and the result was a production that was both heartwarming and entertaining. Congratulations to everyone involved in this outstanding performance, which will undoubtedly be remembered as one of the highlights of the college calendar in 2023.