World Vision Scholarship Summit
---
The musings of Year 13 student, Ishta Khot, who was selected to attend a summit for World Vision in Auckland. Ishta hopes to drive support for World Vision's '40 Hour Famine' initiative amongst the students of QMC.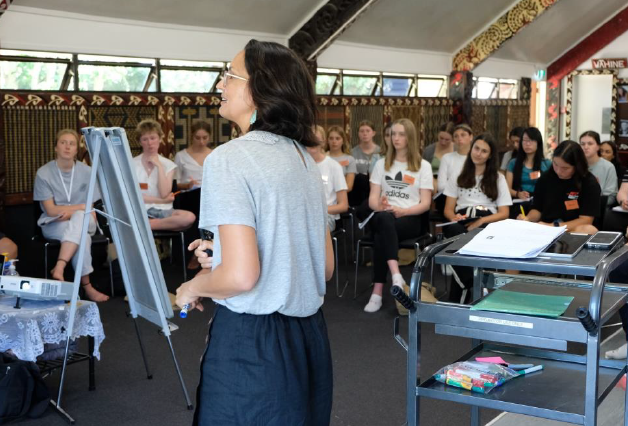 Recently, I was fortunate to be chosen to attend the World Vision Senior Scholarship Summit in Auckland. It was a three-day event, but the things I learned were endless and I gained a lot of knowledge about social issues globally.
We learned about the global food crisis – about how some places have an excess of food while others don't even have the bare minimum. We also learned about how the production of food as simple as bananas can pose significant ethical issues. Children as young as five are often exposed to harmful pesticides without protective gear on many banana plantations.
More than anything else, something that impacted me the most from this experience was a conversation with Vitalis. Vitalis moved to New Zealand two years ago from Kenya with the help of World Vision. He spoke to us about his life when he was growing up and how the global food crisis impacted him and his family. He also told us about how he couldn't continue with his education because his family couldn't afford the uniform (which costs less than 1 NZD). Vitalis family would go hungry for days in a row. It was not just his story, because even now, most people in his village are still enduring the same or even worse challenges. It was devastating to hear first-hand how difficult his life had been due to this lack of food and money, but it encouraged and motivated all of us who attended the summit to make a change in our society.
Personally, this summit had a huge impact on me. It pushed me to make changes in my life – from buying ethically sourced bananas to simply being grateful for the life and education I have been privileged enough to receive. With their vision of transforming lives and improving the outcomes of vulnerable children, World Vision reaches out to schools and youth and empowers them with knowledge and resources to bring a positive change locally and globally.
I really hope that students continue to be offered this opportunity in the coming years in order to help them make their mark in the world.